Dental Implants – Westfield, NJ
The Closest Thing to Having Your Natural Teeth Back
If you've lost one or more of your teeth, you don't need to get an unreliable denture or a bridge that weakens your healthy teeth. These days, there's a tooth replacement that looks and feels natural without slipping or compromising your remaining teeth – dental implants. Our team at High Tech Family Dentistry has partnered with dental implant experts in the Westfield area to provide this truly state-of-the-art tooth replacement. To get started on rebuilding a complete, confident smile, get in touch with us today to learn more about tooth replacement with dental implants in Westfield, NJ!
Why Choose High Tech Family Dentistry for Dental Implants?
Partnered with Trusted Dental Implant Specialists
Mess-Free Digital Dental Impression System
Low-Interest Dental Financing Available In-House
What Are Dental Implants?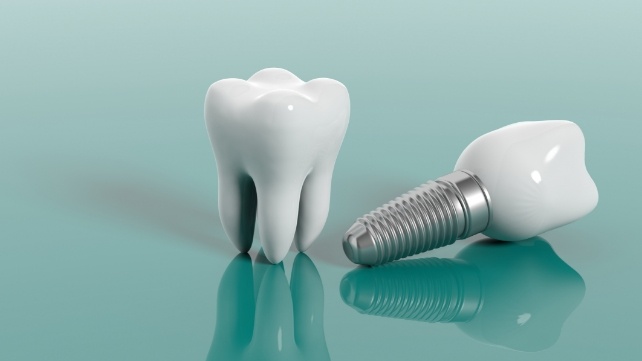 A dental implant is the closest thing to a natural tooth that can be made. The implant is a small post that, after being surgically placed in the jaw, fuses with the surrounding bone tissue. This durable foundation lets the implant support a dental crown, bridge, or denture that replicates the exact appearance of your natural teeth.
The 4-Step Dental Implant Process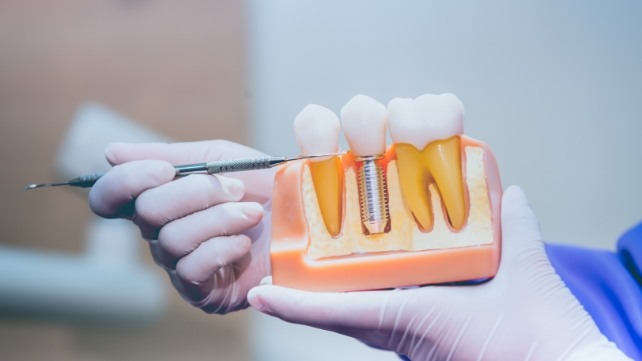 Consultation – First, Dr. Scheiner or Dr. Aryan will find out if you're a candidate for dental implants, walk you through the treatment process, and answer any questions you might have.
Surgery – We'll refer you to a dental implant specialist, who will expertly place the implant posts in your jaw.
Osseointegration – This is the process of your jawbone growing around the implants and creating a lasting foundation. It may take anywhere from three to six months.
Restoration – Finally, we can secure your replacement teeth on top of your implants.
Benefits of Dental Implants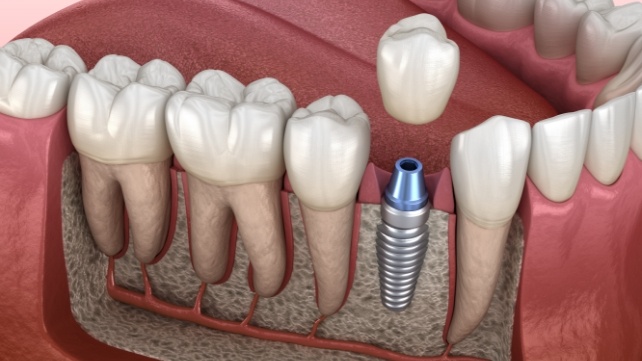 As the closest thing to having your natural teeth back, dental implants are quickly becoming the premier choice for tooth replacement. Here are some of the uniquely beneficial things they can do for you:
Last for 30+ years on average, possibly even a lifetime.
Look and feel natural.
Prevent your jawbone from breaking down.
Maintain the shape of your face.
Help you eat all of your favorite crunchy and chewy foods.
Always stay in place without slipping.
Preserve the health of your remaining teeth.
Who Can Dental Implants Help?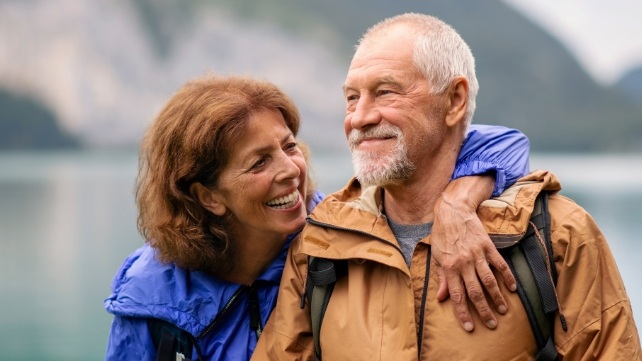 Virtually any adult who has experienced tooth loss and is in generally good health may qualify for dental implants. This treatment is versatile enough to bring back any number of missing teeth. Even if a patient isn't a candidate right off the bat, they might become so with the help of preliminary procedures like bone grafting in the jaw. Once we've cleared you for dental implant surgery, we'll plan out your treatment based on the number of teeth you need to replace.
Missing One Tooth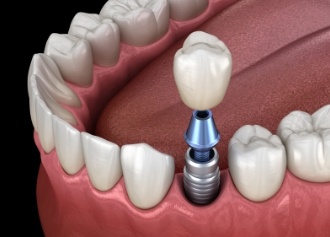 If you only have a single empty space in your smile, the specialist can fill it by vertically positioning one implant post. Then, our dentists can attach a custom crown on top to perfectly recreate the way your smile used to look.
Missing Multiple Teeth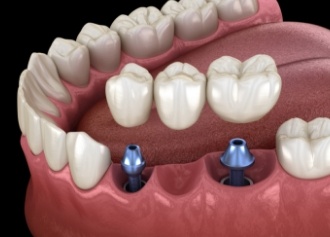 For patients who need to replace several missing teeth in a row, an implant can be placed at either end of the gap in order to secure a dental bridge. Unlike a traditional dental bridge, an implant bridge won't wear down your remaining teeth since it's completely self-supporting.
Missing All Teeth
If you're tired of dealing with a slipping denture, you'll be happy to know that we can anchor a full denture onto four to eight implant posts that are strategically positioned along the jawbone. Because they always stay in place, implant dentures are much more comfortable and realistic than their traditional counterparts.
Understanding the Cost of Dental Implants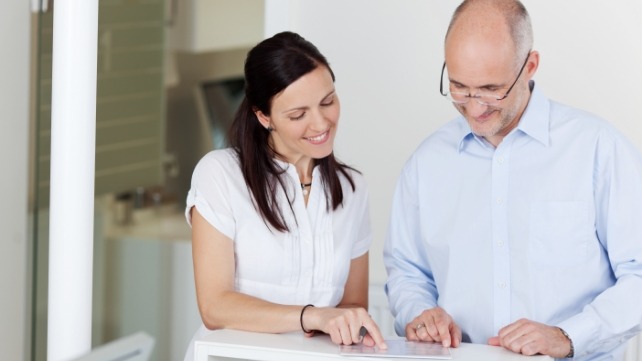 It's no secret that dental implants almost always cost more than regular dentures and dental bridges. However, keep in mind that traditional prosthetics need to be replaced every seven to 10 years, while implants can easily last three times as long or even longer. This makes them a wiser investment in the long term. Implants are often coverec by dental insurance. We will be in contact with your insurance company to let you know exactly what they will cover.